As promised , it's a post about my first ever experience with self tanner. I am very pale for Asian and after working out for about a few months now, I kind of want to get tanned to look fitter. So I look all over Singapore, to find a self tanner and I ended up with Sephora body mist self tanner spray.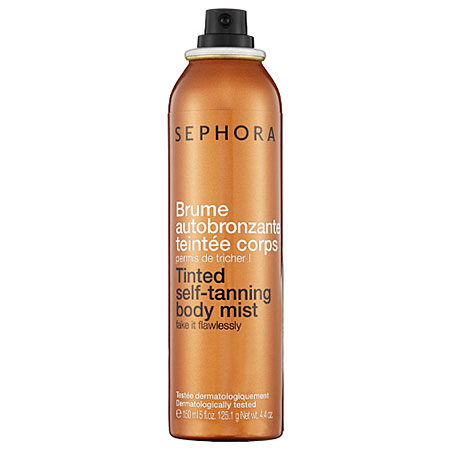 It comes in a small orange golden tone bottle with a cap on top, the tanner only comes in a color which they didn't state specifically but I think it's kind of golden brown tone. I actually read lots of review about the product before I actually bought it, you can read up all the reviews at
http://sephora.com
. For me, I find it safer to read about other people experience before using any product. So it turned out that there's lots of good review about the product and I am thinking " why not ? I should just give it a go"
I purchased the spray mist at the price of $24 , it's worth the price. I spray the mist only at area where people can see my skin which is the body part like my leg, arm, neck and the back cause I wear tank top almost all the time.
I applied the mist by myself in my room, it's quite easy and when you spray the mist you can actually see the brown color which means you won't miss a spot as it can be seen at which area you sprayed before. After spraying on my body, I will use my hand and rub at the area to get it to spread and dry faster which made me ended up with " Orange Hand" but luckily the smell of the spray mist is tolerable, I read a lot of other reviews which mentioned that self tanner has that awful smell but mine didn't , mine smelled like coconut and I love coconut so it isn't a big problem for me.